PISTOL FUNDAMENTALS
COURSE DESCRIPTION
Our Pistol Fundamentals course focuses on the fundamentals of shooting pistols and teaches shooters how to get the most out of their training. This pistol course builds the framework for the shooter and develops their skill set by starting with a full understanding of the fundamentals.
---
SUBJECTS COVERED:
Fundamentals of shooting with pistol
Isolation of the fundamentals
Pistol manipulation
Pistol shooting drills
Reloading fundamentals
Importance of grip and bone support
Proper utilization of sight alignment and sight picture
Draw and retention from OWB (Outside the waistband) holster
Weapon conditions
Safety conditions
Strong and support side shooting
Common pistol malfunctions
---
MINIMUM GEAR REQUIREMENTS:
OWB (Outside the waistband) or IWB (Inside the waistband) Holster
Reliable and sturdy EDC (everyday carry) belt
At least 1 magazine holder
3 magazines
Reliable EDC Pistol
350-400 rounds of ammunition
Ear & Eye Protection
Permanent Marker
Appropriate Clothing for Range
Weapons maintenance & cleaning equipment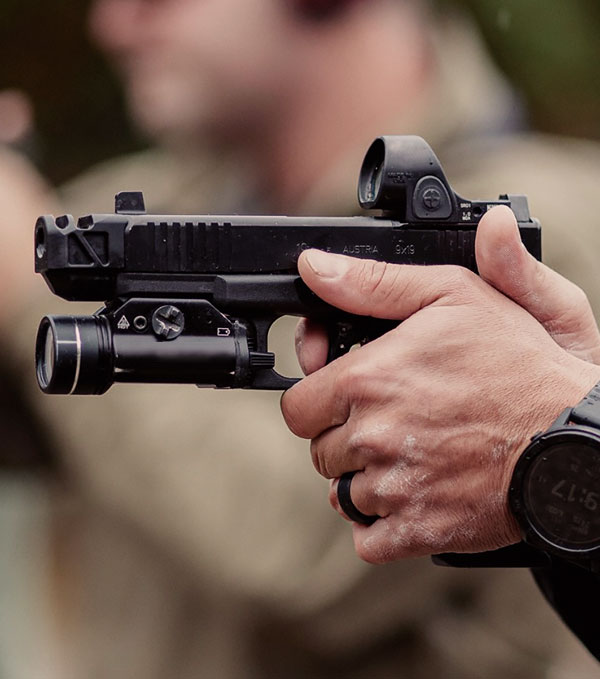 Interested in this course? Check out our upcoming courses or sign up to be notified the next time it becomes available!