PERFORMANCE PISTOL
COURSE DESCRIPTION
Mission: Develop a systematic pathway to performance-on-demand.
Our Pistol Performance Course is designed to take the intermediate pistol shooter to the next level. This is accomplished by reestablishing and refining the core principles of pistol marksmanship and quickly progresses into predictive shooting at speed while maintaining full accountability.
"Speed is a byproduct of superior technique and efficiency of the fundamentals."
Students will learn how to hone their technique and maximize their efficiency which will result in faster, more accurate split times while maintaining a superior level of accuracy at speed.
This 2 day course will drive shooters to exceed their comfort levels while giving them the confidence to shoot at their 90 percent capability comfortably while maintaining full accountability. This will be accomplished by overdeveloping the student's current understanding of pistol fundamentals and pushing them to explore new techniques and concepts.
---
SUBJECTS COVERED:
Draw/Presentation
Efficient Movement
Importance of Grip & Bone Support
Moving Engagements
Performance Metrics & Standards
Performance-on-Demand Pathway
Predictive Shooting
Reading the Gun
Refinement of Pistol Fundamentals
Shooting Occluded Introduction
Shot Calling / Becoming a Self-Diagnosing & Self-Correcting Shooter
Speed Reloading
Surgical Shooting at Speed
Target Focus Refinement or Transition
Target Transitions
Technique Refinement
Vision Refinement
---
MINIMUM GEAR REQUIREMENTS:
3 Magazines
Appropriate Clothing for Range
At Least 2 Magazine Holders
At Least 800 Rounds of Ammunition
Ear & Eye Protection
Outside the Waistband (OWB) Holster (No SERPA Holsters)
Permanent Marker
Reliable & Sturdy Belt
Reliable Pistol
Weapons Maintenance & Cleaning Equipment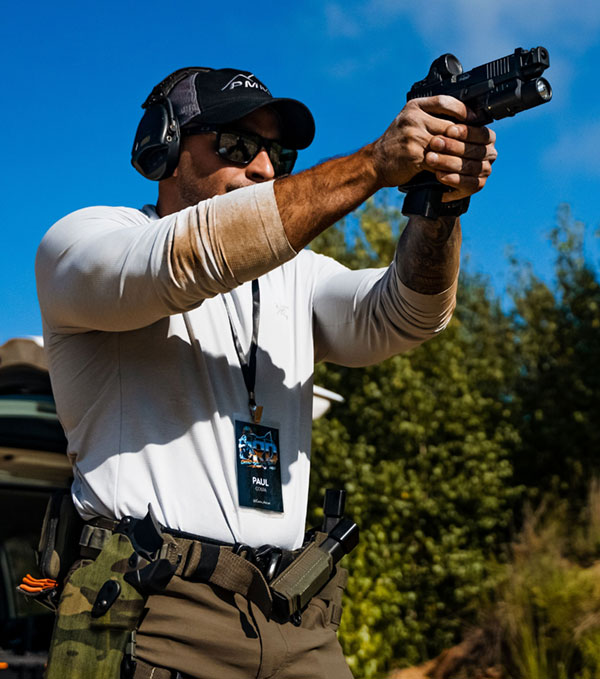 Interested in this course? Check out our course schedule or sign up to be notified the next time it becomes available!