DYNAMIC CARBINE APPLICATIONS
COURSE DESCRIPTION
Our Dynamic Carbine Applications Course focuses on the performance application for shooting with a carbine. Shooters will be instructed on how to exceed their comfort levels in order to build speed in engagement & manipulation of their weapon system. This is a mobility course that will require a decent physical fitness level from each student. This course will teach you the steps and provide you with the knowledge necessary to build a confident shooter.
Further expand on the fundamentals learned in the Carbine Fundamentals course and apply them to more difficult situations, including mobility (move and shoot), different weapon carrying positions, dealing with and clearing malfunctions and mechanical offsets, and shooting from cover.
Students will build speed through a wide range of reloading and shooting drills, and gain a better understanding of the reloading fundamentals for a carbine. They will utilize sling manipulation and engagements at both close and mid-range to become more comfortable all-around in tougher situations.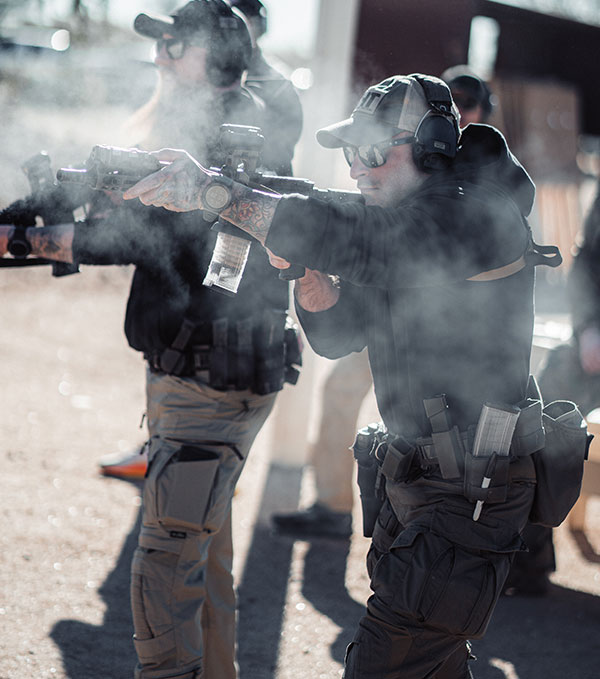 Fundamentals of shooting with a carbine
Weapons conditions for a carbine
Understanding the cycle of operations in a carbine
Shooting positions
Mobility applications
Speed building
Neuromuscular connection development
Weapons carry positions
Mechanical offsets
Ballistics
Common rifle malfunction/immediate actions and remedial actions
Optic and co-witness BUIS considerations
Strong and support side shooting
Carbine shooting drills
Sling utilization
Dynamic movements
Movement during engagements
Reloading fundamentals for carbine
Shooting from cover
Sling manipulation
Multiple engagement techniques
Close and mid-range engagements
Interested in this course? Check out our upcoming courses or sign up to be notified the next time it becomes available!