BROKEN ARROW DEFENSE ELITE PROGRAM
WHAT IS IT?
The Broken Arrow Defense Elite Program (or BAD E for short) is for those who want to be part of an elite group of students that want to take their skills to the next step and keep up with their training.
Verified members will get access to several unique perks including one free monthly training event held on a weekend scheduled by B.A.D., course discounts, industry partner discounts, and much more.
---
WHAT'S THE COST?
The Elite Membership costs $150/month with a 12-month commitment.
---
WHEN CAN I SIGN UP?
Membership applications for BAD Elite are accepted only once a year every July.
2023 applications must be submitted by June 30th, 2023. Approved applicants will receive sign-up links on July 3rd, 2023.
SOUNDS GREAT! HOW DO I SIGN UP?
At this time, students who have taken at least one class with Paul Costa are able to apply to become an Elite Member. Stay tuned for updates.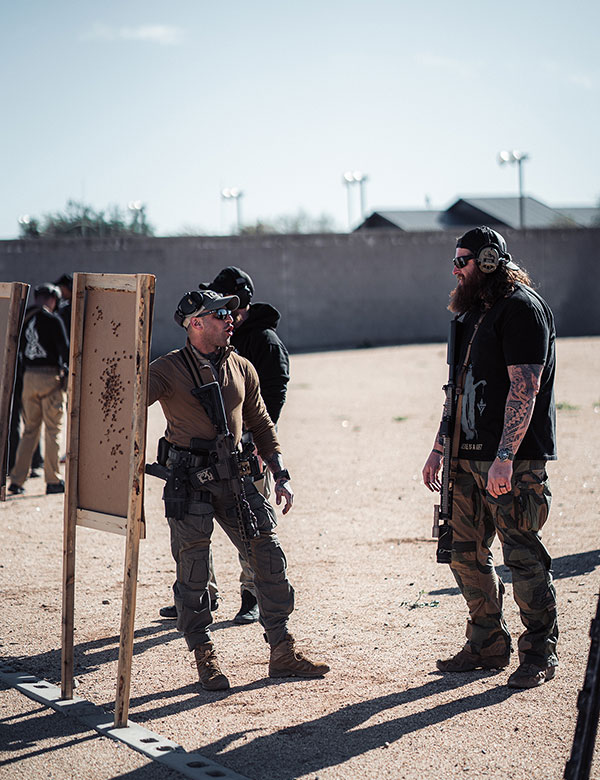 DETAILS:
$150/month with a 12-Month Commitment
The Broken Arrow Defense Elite Program (or BAD E for short) is a new Membership program for Elite Members of the BAD inner circle that comes with several benefits.
| Elite Benefits | |
| --- | --- |
| 1 Free Training Event one weekend per month rotating the following (B.A.D. reserves the right to choose curriculum based on range availability & guest instructors who would participate). | |
| Custom discounts from vendors & industry partners. | |
| $100 OFF 1-on-1 Private Training Sessions. | |
| 20% OFF all additional Broken Arrow Classes. | |
| Access to the Members Only Group Chat. | |
| First pick to be entered into classes with guest/outside instructors. | |
| Free hat, patch, shirt (specific to the program). | |
| Monthly prize giveaways at class. | |
HAVE QUESTIONS ABOUT THE PROGRAM?